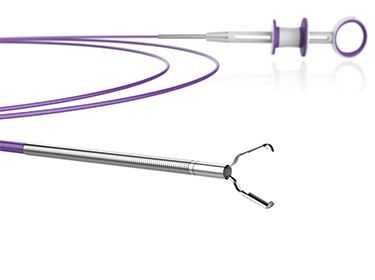 Abstract:

Jiuhong Medical Instrument Co.,Ltd is one of the best endoscopic hemoclip, hemostasis clip, disposable hemoclip, endoscopy quickclip manufacturers and also a professional such supplier in China, please feel free to contact us.

Intended use

Compatible with endoscope, the device is indicated for clip placement within digestive tract for the purpose of mechanical pressure treatment of bleeding of small arteries and pulsation.

Features

Rotatable clips design, offering a precise placement.
Repeated opening and closing clips.
Innovational design of handle lock system and atraumatic tip, avoid damage to scope after releasing clips.
Sensitive release system, easy to release the clips.

Specifications
Model
Clip opening (mm)
Woking Length(mm)
Endoscope Channel (mm)
Characteristics


VDK-CD-11-160-O

11

1600

≥2.8

Gastroscopy
Uncoated


VDK-CD-13-160-O

13

1600

≥2.8

VDK-CD-16-160-O

16

1600

≥2.8

Colonoscopy


VDK-CD-11-230-O

11

2300

≥2.8

VDK-CD-13-230-O

13

2300

≥2.8

VDK-CD-16-230-P

16

2300

≥2.8

Gastroscopy




Coated

VDK-CD-11-160-P

11

1600

≥2.8

VDK-CD-13-160-P

13

16

00

≥2.8

VDK-CD-16-160-P

16

16

00

≥2.8

Colonoscopy

VDK-CD-11-230-P

11

2300

≥2.8

VDK-CD-13-230-P

13

2300

≥2.8

VDK-CD-16-230-P

16

2300

≥2.8